The Team @ Home Campus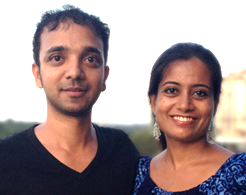 Farhat and Mumtaz founded Home Campus in 2010.
Farhat, who holds a bachelor's degree in engineering from Indian Institute of Technology and a master's degree in finance from Boston College, is a tech guru. He is responsible for HC's product design and development.
Mumtaz loves to teach. Apart from developing the course material at HC, she leads HC's marketing and customer relationships. She holds a master's degree in computer science and engineering from University of Connecticut.
Our Purpose
Home Campus was created to provide your child with a campus at home. Our main goal is to make a fun and conducive LEARNING ENVIRONMENT for your child so he can develop at his own pace, while you can watch him progress. More specifically, we are here to assist your child or pupil build a strong foundation in primary-level mathematics.
Our Mission
To make children BELIEVE that they are smarter than they think!
Who inspire us?
Children who get frustrated at the mere mention of the word "MATHS"!
We hope everyone using Home Campus will have a wonderful experience learning math and will Learn, Practice and Progress!!